Checking your patient's insurance benefits BEFORE the patient is seen should be a fundamental part of your practice's administrative process. Otherwise, you run the risk of claims being denied and left unpaid. You don't always have the right to appeal or bill your patient which is why it is so important to know the patient's insurance benefits before treatment begins.
When checking benefits, be sure to ask the right questions. Here at Account Matters, we had our administrative experts come up with the top 5 questions you should be asking every time. We highly recommend sharing this information with your front desk staff to ensure they are receiving the most accurate information possible.
Let's jump right in to the 5 most important questions:
1. "What is the patient's financial responsibility?"
Informing the patient of any co-pays, deductibles or co-insurance upfront will guarantee a better patient experience. Not only will the patient know what is expected from them financially, your front desk staff will also feel more confident when asking for payment at time of service. This decreases the chance of a nagging patient balance and can reduce the number of patient statements that you need to send each month.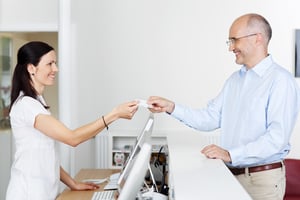 Routinely checking benefits can also reduce the amount of refunds to the patient or insurance company due to over-payments.
2. "Does this patient have visit limits?"
Not all insurance plans offer unlimited visits to specialty healthcare services such as physical, occupational, and speech therapy. This is why it is essential to ask this question when you call to check the patient's benefits. If the patient has a visit cap, what is the limit? How many visits have they already used for the year? These might seem like small details but they will play a huge role in reducing denials due to exceeding benefit maximums.
DOWNLOAD THE TOP 3 BENEFIT CHECK MISTAKES
3. "Is this a Plan Year or Calendar Year?"
Finding out if your patient's insurance plan operates under a calendar or plan year will benefit both the patient and your bottom line. This information lets the patient know when their benefits reset giving them a better understanding of their financial responsibilities. And, having your front desk track and re-verify when benefits renew assures that there are benefits in place at time of service. Keeping everyone informed and benefits up to date reduces frustration for all involved.
4. "Is a referral or authorization required?"
In our experience, referral and authorization denials are two of the most common denial reasons. Finding out whether or not a referral or authorization is required BEFORE the patient is seen will have a huge impact on the number of denials your office receives.
It is important to note that denials due to "no auth" cannot be billed to the patient because it is not the patient's responsibility to obtain the authorization. However, denials due to "no referral" can be billed to the patient because it is their responsibility to obtain a referral before receiving treatment.
5. "Is the patient receiving home health care?"-Medicare Patients ONLY
Medicare patients who are actively receiving home health care are not eligible to receive outpatient therapy services. If you discover that the patient was receiving home health but has since been discharged, you should obtain the discharge letter from Medicare to put in the patient's file in the event that an appeal needs to be submitted.
Treating Medicare patients who are also receiving home health care results in claims not getting paid or getting paid only to have it taken back at a later time. The provider forfeits all appeal rights by treating this patient.
The bottom line... If your administrative process does not include checking patient benefits before the patient is seen, your revenue cycle management is hindered from the start. If you are checking benefits before the patient is seen, but you are still receiving denials and having trouble getting patients to pay their portion, call Account Matters at 508-422-0233.