When a healthcare provider gets married and takes their spouses last name, they will update their driver's license, bank accounts, car insurance, etc. With so many crucial areas that need updating, providers might forget to notify the insurance carriers in which their employer participates. Providers must update their professional license and national provider identifier (NPI) with this change, as well as the individual insurance companies.
Like credentialing and contracting, each insurance carrier has their own process for submitting provider name changes. We've contacted the top insurance companies in the United States to get their process.
Professional License-
Providers should begin their name change submission by updating their professional license. Many states have online portals in which providers can submit changes or find forms that they can submit via fax or email. In Massachusetts, providers can log into the ePLACE portal to submit the change or they can mail in the "Change of Address or Name" form. We recommend visiting your state's licensure department website for the specific process for updating the last name on your professional license.
Medicare-
Changing your legal name with Medicare requires two steps. First, is updating your legal name on the National Plan & Provider Enumeration System (NPPES), the same website that providers use when applying for a national provider identifier (NPI).
Once providers are logged into NPPES, they will see a home screen that looks like this: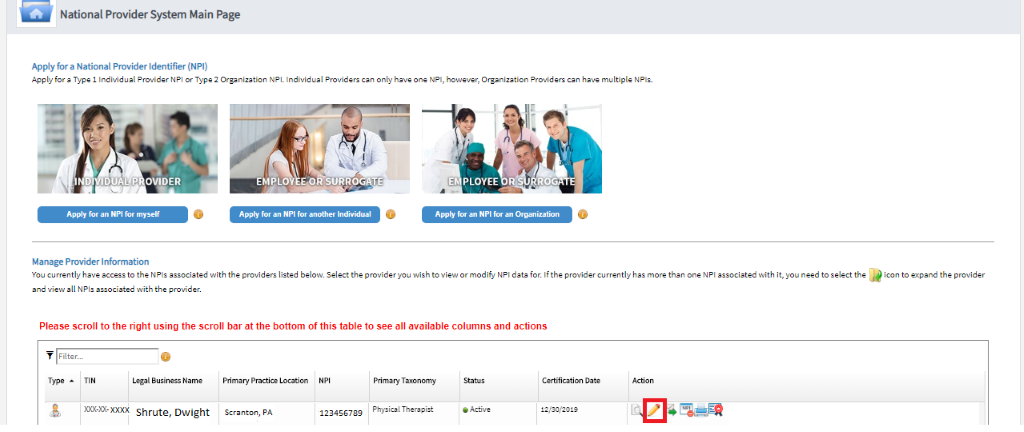 Providers will select the pencil "edit" button and be taken to their existing NPI application. This is where you will want to update your name and list your maiden name under the "Other Name" section.

Once the provider has updated their last name on this page, they can click "Next" until they reach the "Submission Certification" page in which they acknowledge that the information provided is accurate and submit. This information should update within 48 hours.
Once a provider's name is updated with NPPES, they can update their Medicare enrollment with their new legal name. Providers will need access to their Provider Enrollment, Chain and Ownership System (PECOS) account.
After logging into the PECOS account, providers will want to select "My Associates", then scroll down to the existing enrollments, and select "View Enrollments" under the provider for which you would like to make changes. Here you will see your current Medicare enrollment. Select "More Options" and then select "Perform a Change of Information to Current Enrollment Information". If you are only changing your legal name, you will want to choose Option 2. You will then be brought to your Medicare enrollment application. For the remaining steps, please visit this step-by-step guide created by Medicare to complete the name change. Once providers complete these steps and submit their application to Medicare, they should receive an approval in 3-4 weeks.
Optum (UHC)-
Optum does not have a form or online portal to submit a name change request. Requests must be made with a letter of intent on company letterhead sent directly to Optum. Information that must be included in your letter of intent is the practice name and address associated with your enrollment, the old legal name, the new legal name, and the effective date of this change, and an updated W9.
Providers can submit this letter of intent via fax or email. The fax number is 888-626-1701 and the email is network_physicalhealth@optumhealth.com. This change can take 14-30 days to complete so we recommend following up with Optum Provider Relations every two weeks. To reach Optum Provider Relations, please call 800-873-4575.
Humana-
For a provider to update their legal name with Humana, they must submit a letter of intent, on company letterhead, to the demographics department for their specific region. For example, in Massachusetts, providers would send their letter of intent to newenglandproviderupdates@humana.com. We recommend including supporting documentation such as a marriage certificate. This update can take up to 30 days to reflect in Humana's database. For your states contact information, we recommend calling Humana Provider Relations at 800-626-2741
Aetna-
Aetna makes updating your last name easy with their online form, which you can visit here. This form can be used for a variety of provider updates such as updating practice addresses, phone numbers, and more. If a provider wishes to change their name with Aetna, they would want to select the "Provider Name Incorrect" option and input the updated name. Requests can take up to 30 days to reflect in Aetna's database. After the 30 days, we recommend calling Aetna's Provider Relations department at 888-632-3862.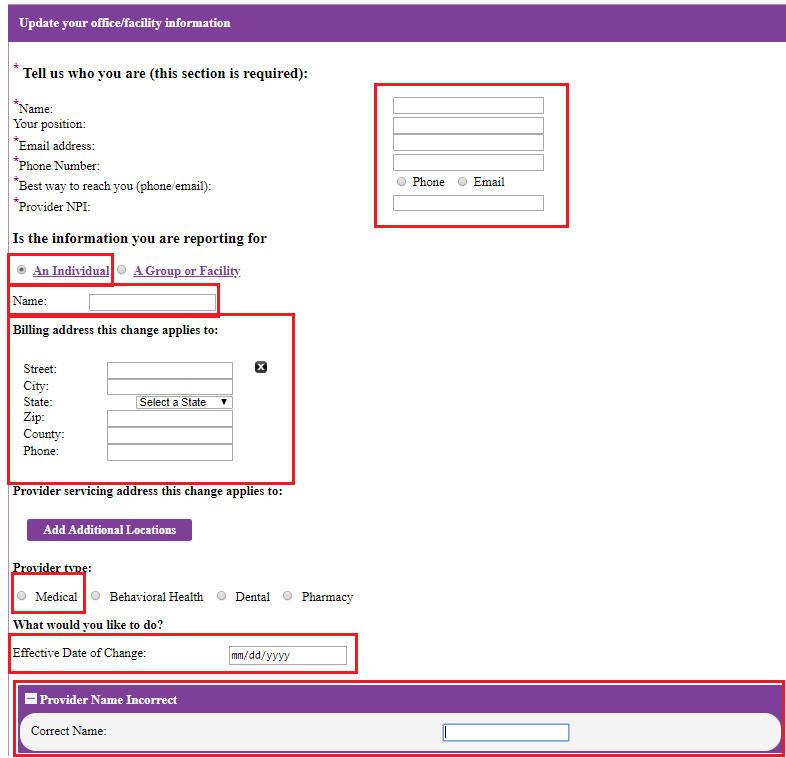 Tricare East-
Tricare East has a great provider self-service portal that I recommend every contracted provider to register for. Providers can update their company address, check claim status and so much more with this portal. Unfortunately, it does not allow for providers to update their legal name. This must be done with a letter of intent on company letterhead send directly to Tricare East's provider certification department. Providers are required to send supporting documentation with their request, such as a marriage certificate. The fax number to send the letter of intent and supporting documentation is 608-221-7535.
Tricare East recommends calling Provider Relations at 800-444-5445 to follow up on the status of this request. This change can take up to 30 days to reflect in their system.
Cigna (ASH)-
Since American Specialty Health (ASH) manages the Cigna network for rehab therapy providers, name changes for Cigna should be submitted through ASH. This request can be completed through ASH's provider portal, ASHlink.
Once logged into the ASHlink account, providers will want to select "Account" > "Provider Status Change Request" > "Update Provider Name" and complete the required information. Providers who don't have an ASHlink account can submit this request using the Provider Status Change Request Form and submit via email to PSCR@ashn.com or fax at 886-545-2746.
Tricare West-
Providers can update their name online or by submitting the "Provider Information Form". If a provider has access to the Tricare West portal, Tricare has a step-by-step instruction guide for updating provider names.
Changing your name with each insurance company, while necessary, can be time consuming and tedious. Our staff can submit these changes and follow-up with the insurance companies for you, allowing you to focus on creating a great experience for your patients. For more information on our credentialing services, call us at 508-422-0233 or by email at info@accountmattersma.com.